With conditional formatting, you no longer have to choose between two different formats for your document. Instead, you can make the content appear differently based on a condition such as if it's a date or just
any other text string. In this article, we'll discuss how and when to use conditional formatting with examples of real-world scenarios from professionals who know best..
Conditional formatting is the feature that changes everything. It allows you to set conditional rules for your documents, presentations, or spreadsheets. If any of these conditions are met, the document will change its appearance in some way.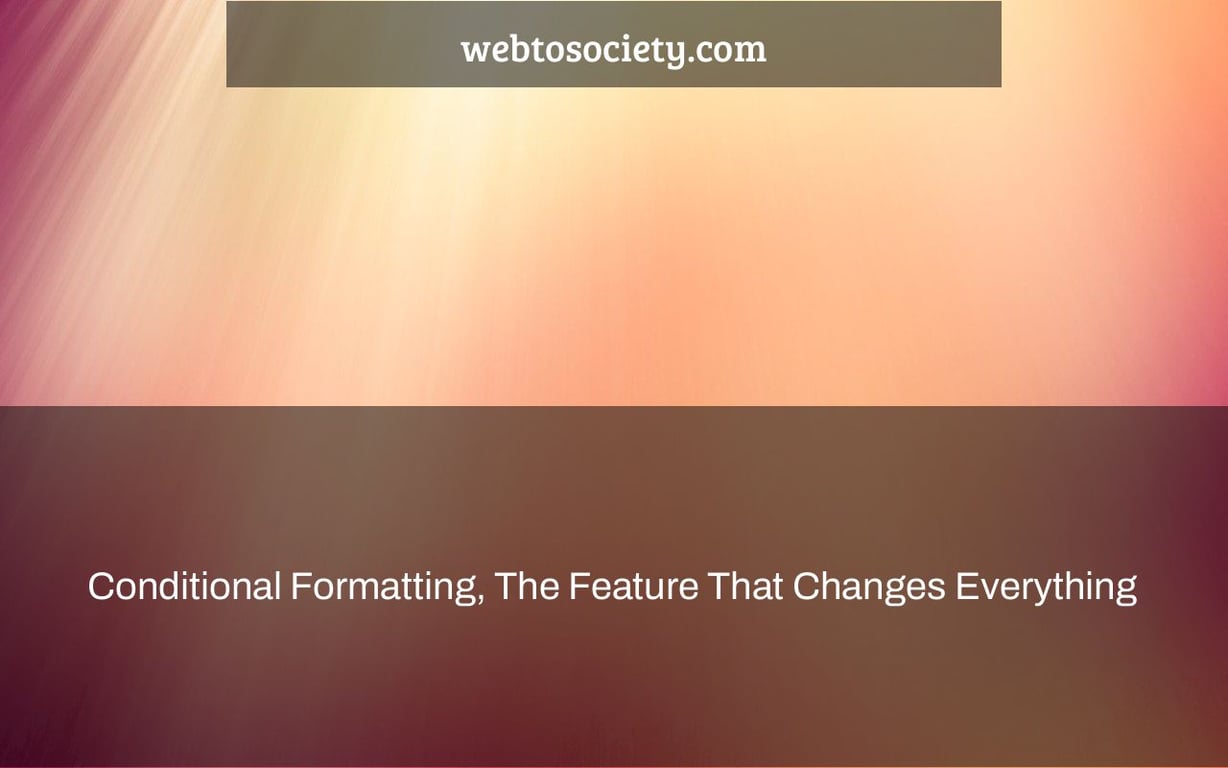 When working with Google Sheets, it's easy to imagine spending an entire workday scouring the spreadsheet for cells to highlight and search. The good news is that conditional formatting is a simpler way. In Google Sheets, formatting is the process of telling Google Sheets how you want your spreadsheet to appear.
For example, you could wish to put all of your employees' names in bold and their departments in italics or all CAPS. Use conditional formatting in Google Sheets instead of spending an entire day doing this, and you'll quickly see why it's known as the "feature that changes everything."
Here's where you can learn more about it.
Conditional formatting may be used to highlight duplicates.
Conditional formatting is a clever formula that may be used to modify the appearance of a cell. For example, if you want cell B117 to be green, you can tell Google Sheets that you want it to be green and you'll never have to do it manually again.
Let's say you want B117 to be green since it represents everyone in your firm who is on "Holiday Vacation." Then you'd inform Google Sheets that you want the duplicate value "Holiday Vacation" time off to be highlighted in green using conditional formatting.
To get there, go to the Format tab, choose Conditional formatting, and then define the range (B1:B125) for example, the value you wish to see (Holiday Vacation), and the formatting "green."
With this basic formatting, you now have a quick snapshot of who is on vacation for the chosen period of time, and you've saved time manually looking for each item.
Conditional Formatting using Color Scale
In your Google Sheets document, you may utilize color scale in conditional formatting to use one color but various shades. Let's imagine you have some workers who have shown an interest in taking vacation time around the holidays but have not yet booked it. To save time, you may utilize the color scale as a formatting tool.
Go to the Format tab, pick Conditional Formatting, and then the color scale tab in the same column of your employee sheets.
Select the cells you wish to apply this rule to now. Enter the range of cells to which you'll apply your color scale and choose a color scale to represent them. So that the color scale shows on your document, you'll input a minimum and maximum value here.
You'll input where prospective holiday vacation schedules will occur on the left (minimum value) and where confirmed holiday vacation schedules will occur on the right (highest value). You'll say what colors you're working with at halfway.
When you click the Done button, your spreadsheet should have different shades of color for the various variables you're dealing with.
We utilized a color scale to assess who may be taking vacation time for this example firm in this scenario.
Other Cell Values Influence Conditional Formatting
You may use conditional formatting with this tool to format cells depending on what another cell specifies. So, let's return to our fictitious employee spreadsheet, where we're attempting to figure out who's taking vacation time and who isn't. Some workers will take paid time off, while others will not, and both types of time off are included on the same spreadsheet.
Now we'd want to format the cells of workers who are on paid vacation. "Paid" and "Holiday Vacation" are the two values you'll see here.
Let's pretend we're trying to figure out who is taking a paid vacation over the holidays. The other value of Paid Holiday Vacation will be used to format the Holiday Vacation cells.
Select Conditional Formatting, single color, and the range of cells you wish to examine from the Format tab. We'll call this the D5:D500 range. Click "Custom formula" and type =$range>value, where range is the cell range and value is the result you want.
So the "Holiday Vacation" range is anything after D5, the value is "Paid," and the calculation is =$D5>Paid. Now you'll format it with the color of your choosing and then click Done.
Conditional Formatting Logic Formulas
With conditional formatting, you can go as sophisticated as you want, but it's not as complex as it seems while you're learning. So, in our example of Christmas vacation, you could wish to figure out who might be eligible for vacation if they work 160 hours before November 30. You may also use an IF function in Google Sheets to instruct it how to do it.
Select "Conditional formatting" from the Format menu, then the color of the formatting you want. Select the cell range to which you'll be applying your reasoning, such as D5:G500. By selecting "Custom Formula" and adding data into this formula (without quotation marks): =AND($cell>value, OR ($cell = value)), you may now apply a logic formula here.
=AND($D5>160, OR $G2 = Holiday Vacation, $[range where Nov. 30 is located]=November 30) is the formula in this case.
You may now format this range as needed and click Done.
Start applying conditional formatting to your documents.
When you start utilizing conditional formatting, you'll wonder why you didn't start using it sooner. Make a fictitious spreadsheet with a few variables and practice your formulae for an hour or two, and you'll get the feel of it soon. This saves you a lot of time compared to digging for and manually preparing the information you need.
Watch This Video-
Conditional formatting is a feature that changes everything. It allows users to format cells in Google Sheets based on certain criteria. The main reason why this is important, is because it helps with productivity and efficiency. Reference: conditional formatting google sheets.
Frequently Asked Questions
Which are the features of conditional formatting?
A: Conditional formatting is a feature of Microsoft Excel that allows users to have their cells change colors depending on certain conditions.
What can conditional formatting change?
A: Conditional formatting will change the look and feel of your spreadsheet.
Can you use conditional formatting to change the value of a cell?
A: Sure! Conditional formatting can be used to change the value of a cell. You can use this in Excel to determine if you input is true or false, for example.
Related Tags
types of conditional formatting in excel
conditional formatting based on another cell
excel conditional formatting based on another cell multiple values
advanced conditional formatting in excel
excel conditional formatting formula if